The launch of cryptocurrency ETFs could bring an inflow of new money into the digital asset markets, which could lead to new all-time highs for many digital currencies and tokens. However, we are still waiting for the first Bitcoin ETF to hit a US exchange.
In this article, you will be introduced to cryptocurrency ETFs and the alternative investment opportunities that exist in this market.
What Is an ETF?
An exchange-traded fund is a security that tracks an index, a commodity, or a basket of assets. Unlike a mutual fund, shares in the ETF are tradable like stock. The best ETFs regularly outperform mutual funds, making these attractive options in the traditional market.
The idea of ETFs being available for digital assets would solve several of the problems blocking cryptocurrency's mass adoption.
A managed asset would dampen some of the effects of volatility, as well as the challenges in storing and maintaining a crypto portfolio and wallet. As some of the assets that would be included in these ETFs would be crypto futures, it would also expand the options available for investors. Some traditional ETFs have allowed for speculation and hedging strategies, which could be useful in the digital asset market.
While digital currency is largely unregulated, regulators have been anxious when it comes to altcoins acting like securities. The SEC and Commodities Future Trading Commission's positions are that a new asset must be shown to be safe in order to be regulated in the United States. The 2017 and 2020 bitcoin price spikes and allegations of market manipulations, however, have made regulators skeptical.
What Crypto ETF Opportunities Are Available Now?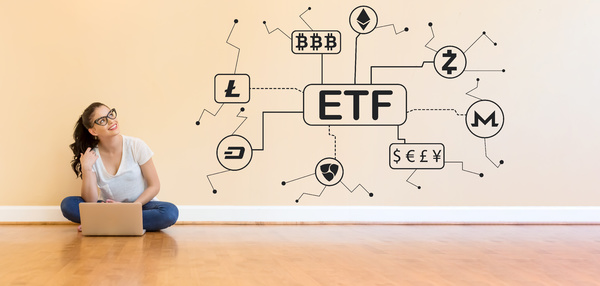 There are several crypto-focused funds that can be purchased using online brokerage accounts. Currently available cryptocurrency ETFs focusing on stocks related to blockchain and cryptocurrency index funds include:
Grayscale Bitcoin Investment Trust (GBTC)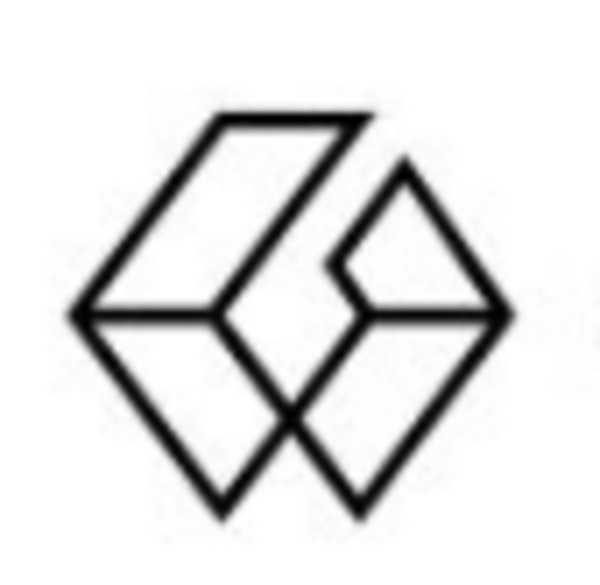 An early mover in the cryptocurrency space, GBTC is an index fund that gives investors exposure to movements in the price of bitcoin without having to buy the digital currency themselves. Launched in 2013, GBTC holds bitcoin directly, enabling investors to gain exposure to price movements in the digital currency without needing to open a digital wallet to store bitcoin. GBTC has an expense ratio of 2%, higher than is typically the case with ETFs.
Assets: $20.7 billion
Expense ratio: 2.0%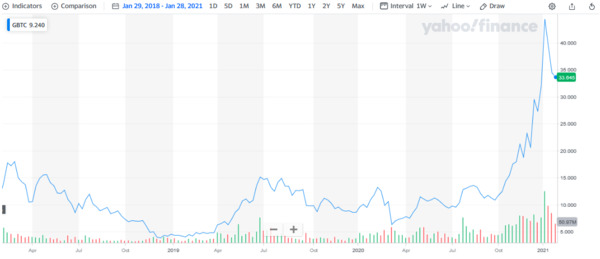 Bitwise 10 Crypto Index Fund (BITW)

BITW is an index fund that offers exposure to bitcoin and other major cryptocurrencies. The fund attempts to match the return of an index made up of the 10 most highly valued cryptocurrencies. The selected cryptocurrencies are screened and monitored for certain risks and weighted using market capitalization. The selected digital currencies are rebalanced on a monthly basis.
Assets: $481 million
Expense ratio: 2.5%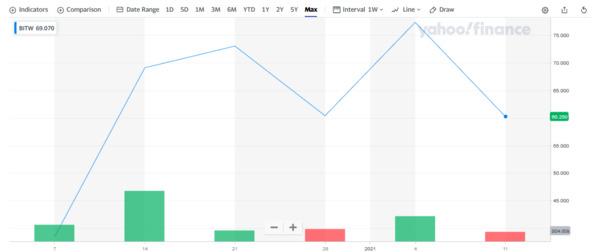 Amplify Transformational Data Sharing ETF (BLOK)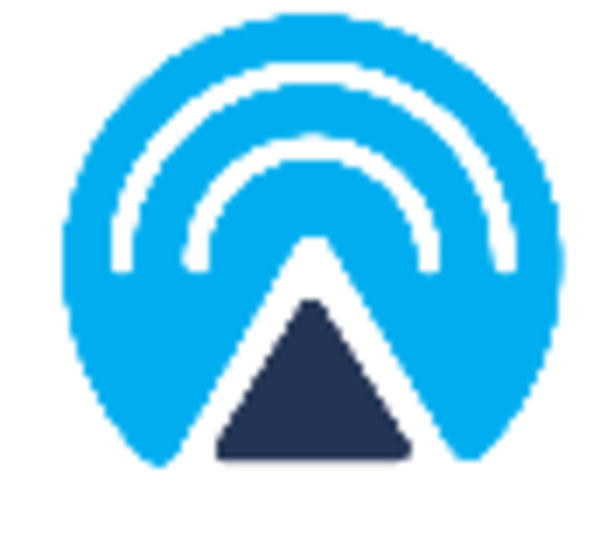 The BLOK ETF doesn't hold bitcoin or any other cryptocurrency directly. Instead, it offers exposure to companies that are involved in the blockchain and digital sharing sector. The fund invests globally, with at least 80% of its holdings dedicated to the equity securities of companies actively involved in the development and utilization of transformational data-sharing technologies.
Assets: $361.55 million
Expense ratio: 0.70%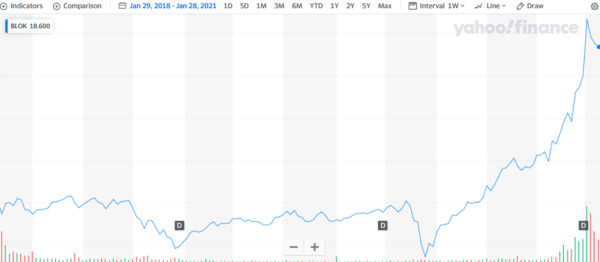 Grayscale Digital Large Cap Fund (GDLC)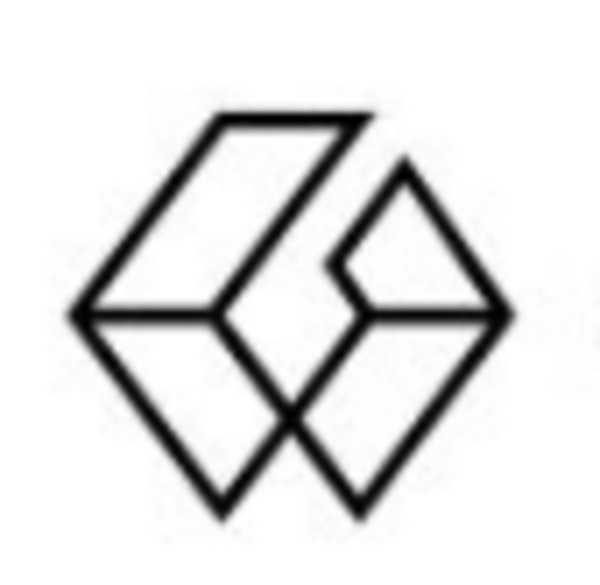 GDLC, an index fund that debuted in February 2018, offers investors exposure to a variety of digital currencies. The fund offers investors the opportunity to gain exposure to the price movement of a basket of large-cap digital assets in a mutual fund vehicle, saving them the effort of buying and storing the assets themselves. The fund's assets are distributed between the following four major cryptocurrencies on a market cap-weighted basis: bitcoin, ether, bitcoin cash, and litecoin.
Assets: $300.3 million
Expense ratio: 2.5%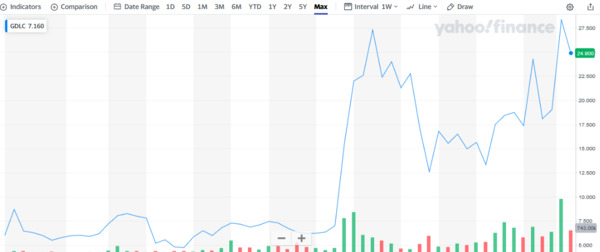 Siren Nasdaq NexGen Economy ETF

The BLCN ETF, like BLOK, does not hold cryptocurrencies directly. The fund looks to achieve long-term growth by tracking the investment returns of an index-linked to the blockchain economy. The linked index is the Siren Nasdaq Nexgen Economy Index. The fund pledges to invest at least 80% of the fund's assets, other than collateral held from securities lending, in securities that are components of the index. The index has been built to gain returns from companies focused on directing resources to developing, researching, supporting, innovating, or utilizing blockchain technology for their own proprietary use or for others to utilize.
Assets: $187.89 million
Expense ratio:  0.68%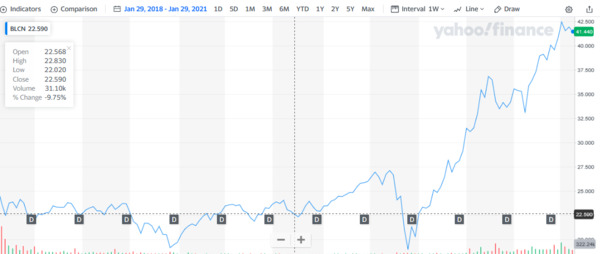 First Trust Index Innovative Transaction & Process ETF (LEGR)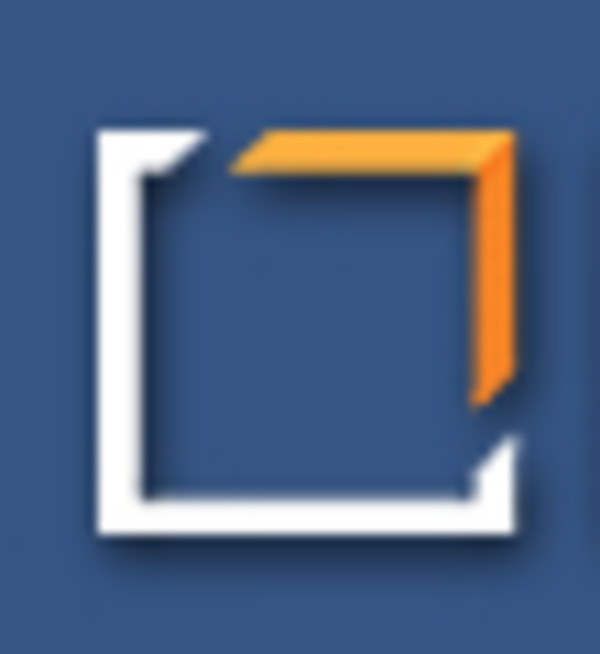 LEGR is another blockchain-focused ETF that endeavors to track the performance of companies that either use, invest in, develop, or have products expected to benefit from blockchain technology. It also invests in companies that stand to realize increased efficiency from the blockchain's ability to improve the efficiency of various business processes.
Assets: $54.39 million
Expense ratio: 0.65%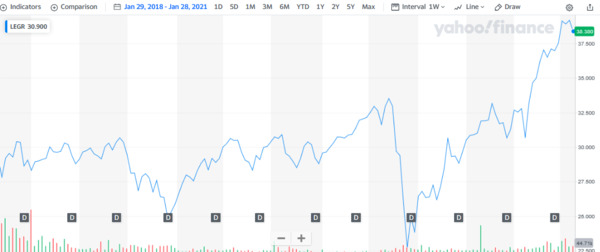 While the SEC drags its feet in approving pure crypto ETFs, the number of stocks linked to the blockchain and digital asset trend continues to rise. As a result, investors can gain exposure to the sector via these blockchain-related ETFs as well as via crypto-focused index funds.
Given the recent upsurge in the price of bitcoin and other digital assets, the future for the sector appears bright, raising the likelihood of increasing ETF exposure to the sector in one form or another going forward.
Further Reading
Subscribe to Bitcoin Market Journal to stay up to date with the latest trends in the digital asset markets.
The post Cryptocurrency ETFs: What They Are and How to Invest in 2021 appeared first on Bitcoin Market Journal.